Our hands are one of the most important tools that we use so it is vital to keep them safe to be able to continue having a full and productive life. Even though many people don't consider it, many hazards can injure our hands including cuts, chemical burns, abrasion, crushing or contact with bio-hazards. This is where safety work gloves come in.
Follow our guide and pick the correct pair for the job.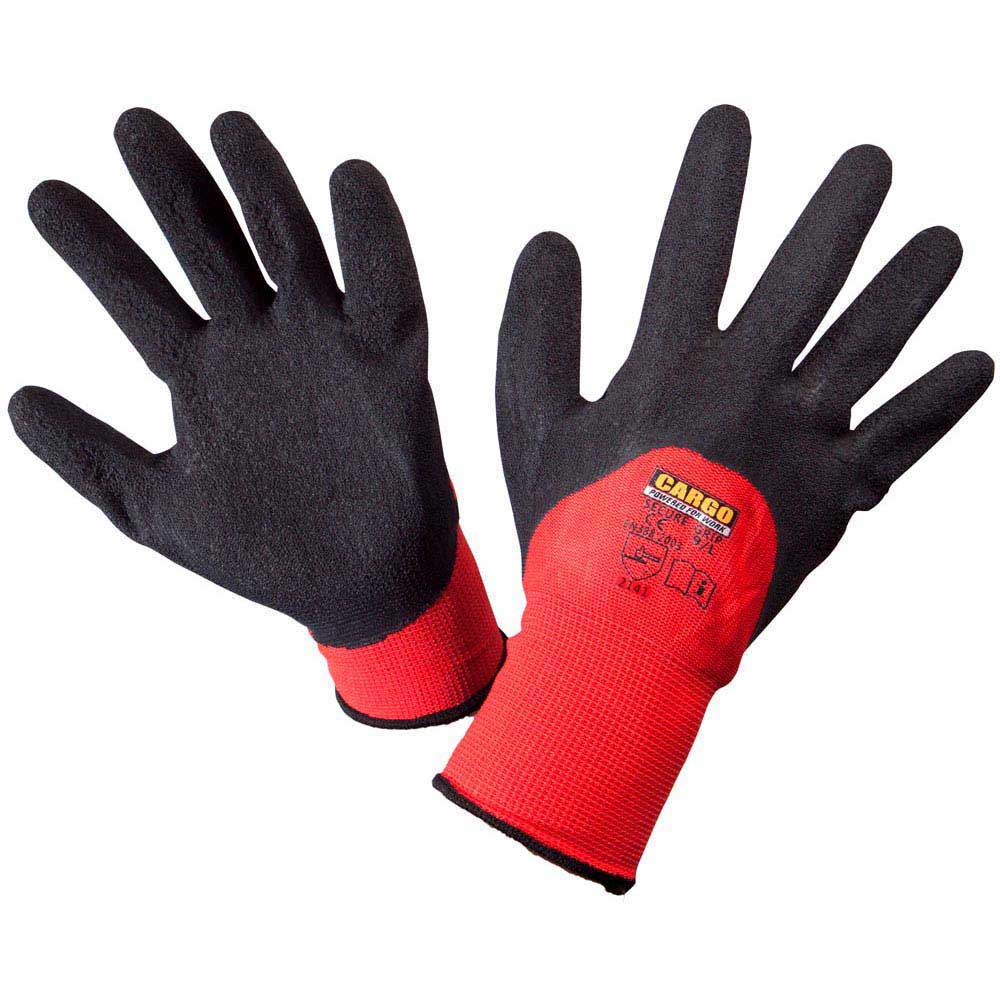 Work Gloves EN Safety Standards
STANDARD
HAZARD
SYMBOL
EN420
General requirements
EN455
Requirements for single-use medical gloves
EN388 2016
Mechanical Risk
EN511 2006
Risk with cold

EN407
EN12477

Thermal risk - heat and fire
Gloves for welders

EN374-1
Protective gloves against chemicals
and micro-organisms
EN374-2
Micro-organic risks
EN374-3
Chemical risks
EN1186
Suitable for contact with food
ISO10819
Vibrations and impacts
Single-Use Medical Gloves EN455
EN 455 Medical Gloves for Single-Use covers any glove that could be used for medical work. The glove must adhere to four separate parts before it is considered safe to be used for medical practice. The four parts are:

• EN455-1: Requirements and testing of gloves for freedom from holes
• EN455-2: Requirements and tests for physical properties
• EN455-3: Requirements and tests for biological evaluation
• EN455-4: Requirements and testing for shelf-life determination

EN388 is the European safety standard for protective gloves against mechanical risks such as abrasion, cuts, tear, puncture, impact
RATING
a.
Resistance to abrasion
0-4
b.
Cut resistance - Coup test
0-5
c.
Tear resistance
0-4
d.
Puncture resistance
0-4
e.
Cut resistance, TDM test ISO 13997
A-F
f.
Impact protection
P,F,X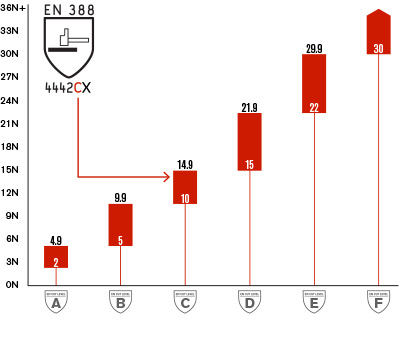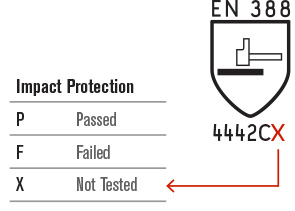 The European Standard EN511:2006 provides data for gloves that give protection from cold
RATING
a.
Resistance to convection cold
0-4
b.
Resistance to contact cold
0-4
c.
Permeability to water
0-1
Thermal Risk - Heat and Fire EN407

EN407 is an international standard developed in Europe and is designed to be used for any glove providing protection against thermal hazards
RATING
a.
Burning behaviour
0-4
b.
Contact heat
0-4
c.
Convection heat
0-4
d.
Radiant heat
0-4
e.
Small splashes of molten metal
0-4
f.
Large splashes of molten metal
0-4
BURNING BEHAVIOUR
This test assesses how long a glove continues to burn or glow after a flame is removed, determining how fire resistant the gloves are.
AFTER-BURN TIME (SECONDS)
AFTER-GLOW TIME (SECONDS)
RATING
Under 20 seconds
Infinity
1
Under 10 seconds
Under 120 seconds
2
Under 3 seconds
Under 25 seconds
3
Under 2 seconds
Under 5 seconds
4
CONTACT HEAT
This tests thermal resistance by measuring the rate the temperature rises in a glove, determining the level of thermal protection offered
TEMPERATURE AFTER 15 SECONDS (PLATE TEMPERATURE)
RATING
100°C
1
250°C
2
350°C
3
500°C
4
CONVECTION HEAT
This test is similar to the Flammability Test (Test 1), however different surfaces of the glove are tested and the flame is more aggressive. This test exposes the cuff, back and palm of the glove to the flame in a controlled chamber. The goal of this test is to determine the length of time the glove is able to delay the transfer of heat from the flame, or how long it takes to raise the inner temperature of the glove to 24°C.
SECONDS
RATING
Under 4 seconds
1
Under 7 seconds
2
Under 10 seconds
3
Under 18 seconds
4
RADIANT HEAT
This tests the back of the glove to ensure it can resist extreme heat radiating through the material, therefore assessing different heat resistant glove materials. The glove is exposed to a radiant heat source and again, the goal is to measure the length of time the glove is able to delay the transfer of heat from the flame, or how long it takes to raise the inner temperature of the glove to 24°C.
SECONDS
RATING
Under 5 seconds
1
Under 30 seconds
2
Under 90 seconds
3
Under 150 seconds
4
SMALL SPLASHES OF MOLTEN METAL
This test is designed to evaluate the level of hand protection when working with small amounts of molten metal, for example when welding. The glove's performance is measured by the number of molten metal drops that are required to heat the glove to 40°C on the opposite side.
NUMBER OF DROPS
RATING
Under 5
1
Under 15
2
Under 25
3
Under 35
4
LARGE SPLASHES OF MOLTEN METAL
This test uses PVC foil to determine the weight of molten metal that would cause the skin to be affected on the inside of a glove. PVC foil is placed underneath the glove, which then has molten metal poured over it. The glove fails the test if the molten metal droplets remain stuck to the glove material or if the glove ignites and or is punctured.
GRAMS OF MOLTEN
RATING
30 g
1
60 g
2
120 g
3
200 g
4
Protective Gloves Against Chemicals and Micro-Organisms EN374-1

It is based on three test methods:

• Penetration test in accordance with standard EN 374-2: 2014
• Permeation test in accordance with standard EN 16523-1: 2015 which replaces standard EN 374-3
• Degradation test in accordance with standard EN 374-4: 2013
TYPE OF GLOVES
REQUIREMENT
MARKING
Type A
Penetration resistance (EN 374-2)
Breakthrough time ≥ 30 min for at least 6 chemicals
Type B
Penetration resistance (EN 374-2)
Breakthrough time ≥ 30 min for at least 3 chemicals
Type C
Penetration resistance (EN 374-2)
Breakthrough time ≥ 10 min for at least 1 chemical
Micro-Organic Risks EN374-2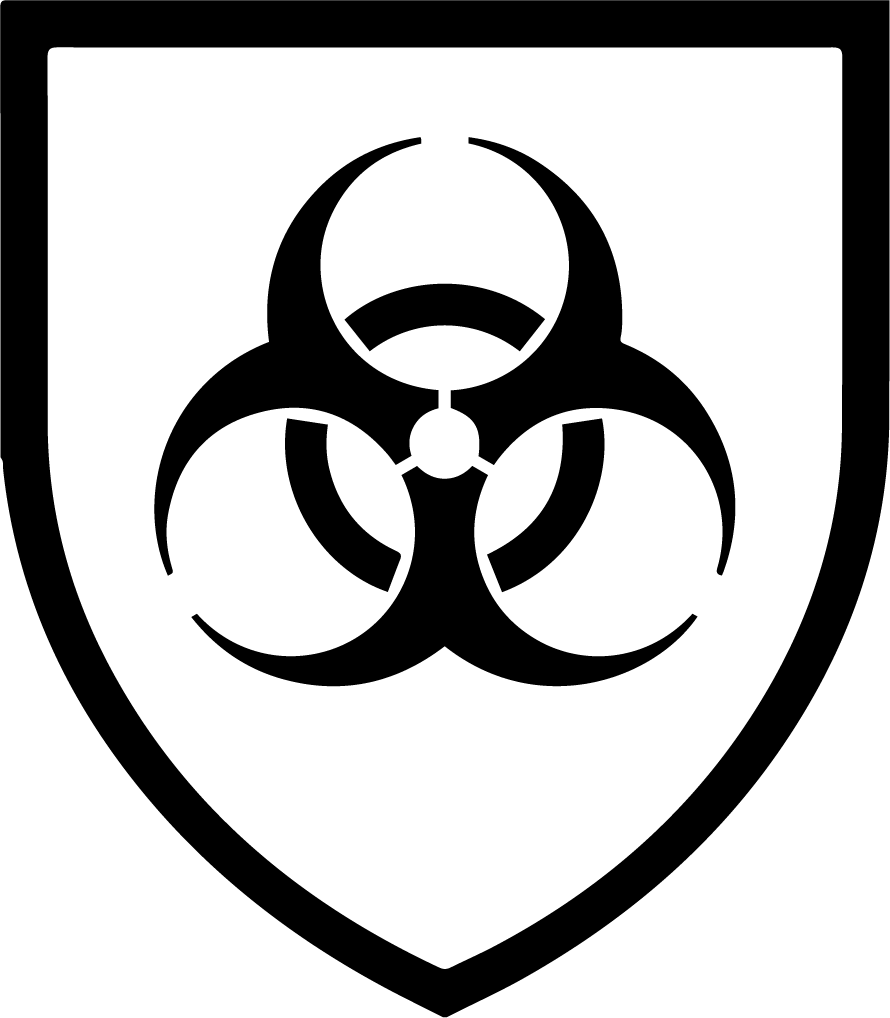 EN 374-2 specifies the test methods for determining the penetration resistance of gloves that protect against dangerous chemicals and microorganisms. The microorganism pictogram indicates that the glove is waterproof, resistant to microorganisms, and an effective barrier against the liquids that harbour microorganisms. Protection levels assigned to EN 374-2 gloves range from 1 to 3, with 1 being the lowest and 3 being the highest (e.g., gloves assigned a protection rating of 1 are waterproof while gloves with ratings of 2 and 3 provide protection against microorganisms).
Requirements:
• Minimum liquid-proof section: the size of this section of the glove must equal the length specified in EN 420.
• Penetration: a glove must not leak when subjected to air and/or water leak test and must be evaluated against the acceptable quality level (AQL).
Resistant to Permeation by Chemicals EN374-3

| | | | |
| --- | --- | --- | --- |
| CHEMICAL | CODE LETTER | CHEMICAL | CODE LETTER |
| Methanol | A | n-Heptane | J |
| Acetone | B | Sodium hydroxide 40% | K |
| Acetonitrile | C | Sulphuric acid 96% | L |
| Dichloromethane | D | Nitric acid 65% | M |
| Carbon disulphide | E | Acetic acid 99% | N |
| Toluene | F | Ammonium hydroxide 25% | O |
| Diethylamine | G | Hydrogen peroxide 30% | P |
| Tetrahydrofuran | H | Hydrofluoric acid 40% | S |
| Ethyl acetate | I | Formaldehyde 37% | T |
- The materials may also achieve a level depending on how much time it took for the chemical to pass through the glove. The following table demonstrates which level a glove will achieve depending on how much time elapses prior to permeation.
| | |
| --- | --- |
| PERFORMANCE LEVEL | TIME PASSED BEFORE THE CHEMICAL BREAKTHROUGH |
| Level 1 | >10 minutes |
| Level 2 | >30 minutes |
| Level 3 | >60 minutes |
| Level 4 | >120 minutes |
| Level 5 | >240 minutes |
| Level 6 | >480 minutes |

EN 1186 is the European standard that needs to be passed for a glove, or any other piece of equipment, to be able to safely come into contact with food. This regulation must be met for all plastic materials including gloves, food packaging materials, storage containers and utensils. EN 1186 is in place to govern which materials can be used in gloves, and also to limit the release of trace amounts of plastics that may be harmful to humans into food, with two main limits that must be adhered to:
Overall migration limit (OML): The maximum amount of non-volatile substances that can be released into food.
Specific migration limit (SML): The maximum amount of metal that can be released into food.
Acceptable migration levels are minuscule. For example, only 0.6mg of manganese per kilogram of food or food stimulant is permitted. OML levels are measured in surface area, and no glove can transfer over 10mg of material per square decimeter of the food contact surface.
The standard is designed to measure the vibration transmissibility from a vibrating handle – through a glove – to the palm. The test is performed in one-third octave frequency bands with centre frequencies of 25Hz to 1250Hz.

To be referred to as an anti-vibration glove, the following criteria must be met:

TRM value shall not be less or equal to ≤ 0,9 (total vibration transmission between 25 Hz-200Hz)
TRH value shall not be less or equal to ≤ 0.6 (total vibration transmission between 200Hz-1,25kHz)
The thickness of the damping material in the palm shall not exceed a thickness of 8mm. It must also cover the whole palm and the full length of the thumb and fingers.
These demands indicate that the vibrations:
- does not increase in the medium frequency range, TRM
- are reduced by at least 40% in the high-frequency range. TRH
Note that these gloves can reduce the health risks related to vibration exposure, like white fingers, but doesn't eliminate the risks. The gloves reduce the vibrations but only in frequencies over 150Hz.

The vibration dampening properties might also be affected through ageing, moisture absorption, temperature and high contact pressure.
Gloves Size Guide
| | |
| --- | --- |
| Size 6 | Extra Small |
| Size 7 | Small |
| Size 8 | Medium |
| Size 9 | Large |
| Size 10 | XL |
| Size 11 | XXL |